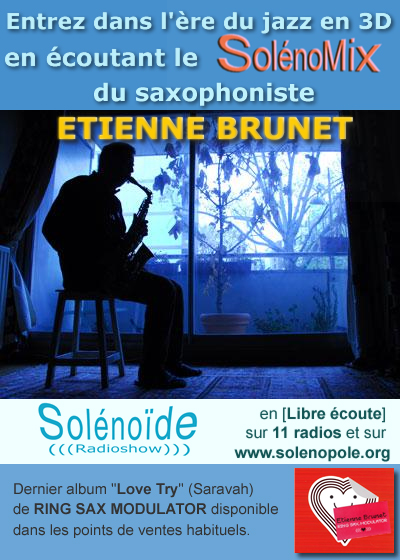 Playliste - SolénoMix ETIENNE BRUNET
1. "My Favourite Father" RING SAX MODULATOR - Album "Love Try" (Brunet / Thierry Negro / Erick Borelva)
2. "Solénoïde Interlude - Spécial mix
3. "Contamination Nation" - Album "B/Free/Bifteck" (Julien Blaine / Etienne Brunet / Thierry Negro)
4. "Acouphène" ETIENNE BRUNET Project 2009 (roman, music) - Spécial mix extrait "Le placard headphone festival 09 Paris"
5. "Boulevard de l'Indépendance" TOUMANI DIABATE'S SYMMETRIC ORCHESTRA
6. "ImprovisAction" FRED VAN HOVE aux grandes orgues de l'église St-Germain des près / Etienne Brunet sax
7. "Souvent" (hyper preacher mix) SALIF KEITA, B ALONE - Album "Remixes From Moffou"
8. "The Concatenator" DIEMO SCHWARZ (cataRT live corpus-based concatenative synthesis for Max/MSP) ETIENNE BRUNET (bass clarinet) , Leonardo Music Journal CD Series
9. "Polata-remix" DJEOUR CISSOKO and l'Orchestre Allaké / cassette Sénégal - Spécial mix
10. "New Phantom band (part 4)" ETIENNE BRUNET par DJ Save OS
11. "L'argent" DJEOUR CISSOKHO and l'Orchestre Allaké - Album "Au fond de l'inconnu"